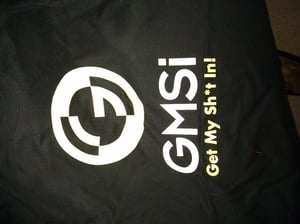 $

20.00
Get You Shirt In!!!
We All know Brian Cage Gets His Shit In everytime he enters the ring. Now you can Get Your Shit In eveytime you enter a room. Order this brand new Brian Cage GMSI logo T-Shirt and you'll feel like the F'N Machine!
FRONT of shirt has the GMSI logo and reads"Get My Shit In!"
BACK of shirt has the now famous quote from Excalibur,"Brian Cage is an F'N Machine!"
SIZES: Shirt is available in sizes Small-2XL(ONLY 1 2XL left). You can specify what size you would like on the order page.
Note: The GMSI logo glows in the dark!!!